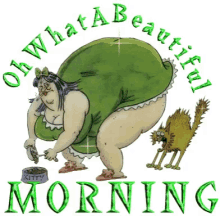 Oh what a beautiful day!  I laid n bed not wanting to gt startd on this busy day today.  When the ct finally managed to get me moving, I remembered this cartoon as I was giving im his morning treats and burst out laughing.  
Today
I am moving forward with today in a happy way!
Good Morning
How did you start your day?
Peace,
:White Eagle"